Mediterranean vegetable stew, türlü, is one of my favorite ways to use up all the random vegetables sitting in our fridge. Its translation from Turkish, "varied", is quite self-descriptive and encourages you to do just that. 
This is yet another Mediterranean recipe that is vegan without any substitutions. Served cold or hot, türlü can comfort you at any time of the year. I love making a big batch on the weekend for light meals or to add as a side to most dinners throughout the week.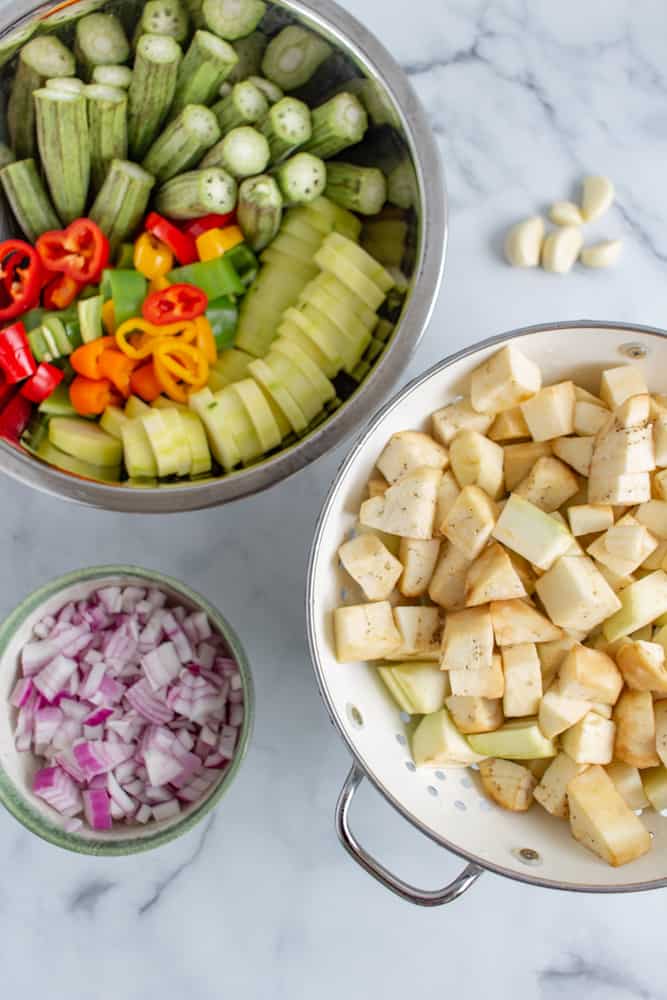 Variations of Mediterranean Vegetable Stew
To be honest, sharing a precise recipe feels almost pointless since you could use most vegetables you like and end up with a delicious dinner. So get creative and use up all your turning veggies you were planning to get rid of soon anyway.
Although, still... some vegetables do go better in this tomato-based dish than others. Below are a few suggestions.
Spring / Summer:

Squash
Okra
Green beans
Peas
Eggplant
Corn
Beets
Bell peppers

Fall / Winter:

Sweet potatoes
Turnip
Leeks
Endives
Parsnip

Year-round:

Celeriac
Carrots
Mushrooms
Cooked chickpeas
Cooked lentils
Optimizing Nutrition
Another reason why I love this dish is its low calorie and high volume & micronutrient profile. If you are aiming to stay in a caloric deficit for some reason like I currently do, and want to get the biggest micronutrient-bang for your calorie-buck, give it a try.  You can also reduce or omit the olive oil to shave off even more calories or to make it whole-food-plant-based.
Uses for Mediterranean Vegetable Stew
Unless I add legumes to this recipe, we enjoy it as a side dish. In summer, I love to eat it directly out of the fridge— especially if it has okra or green beans. In colder months, we enjoy it hot with a side of rice or bulgur pilaf.
This stew goes well with the following:
Rice Pilaf
Ayran (Turkish Yogurt Drink)
Bean or lentil salad (if you are not using any beans in the stew itself)
Tabouleh
Pickles
As part of a mezze spread (served cold)
Print
📖 Recipe
Mediterranean Vegetable Stew: Türlü
---
Author:

Gonul

Total Time:

75 minutes

Yield:

6

1

x
2 medium eggplants, cubed
350 g okra, or about 20 large pieces
3 Anaheim chiles (shishito or bell peppers will work better if you are avoiding extra spice)
3 medium tomatoes, diced (do not get rid of the juice or the seeds! they are the most flavorful parts of a tomato)
2 medium zucchinis, cubed
1 medium red onion, cubed (yellow or white would also work)
3 garlic cloves, finely diced
½ cup extra-virgin olive oil
1 tablespoon tomato paste
1 tablespoon red pepper paste (spicy or regular, feel free to omit this ingredient use equal amount of tomato paste instead)
2 cups hot water
1 teaspoon salt
---
Instructions
Heat the oil in a large pot and add the onions, sweating them for about 5 minutes on medium heat.

Add the garlic, stir fry for another minute, then add all the vegetables except tomato and mix for two more minutes.

Add the tomatoes, tomato paste, pepper paste, and salt. Mix well, put on the lid, and let simmer on medium-low heat for 10 minutes.

Add the hot water and cook on low heat without a lid until all vegetables are tender or to your liking. I like the eggplants quite soft so this step takes about 45 minutes.


Garnish with parsley or cilantro and serve hot or cold. I love this dish with rice pilaf and ayran.
Notes
*Feel free to add any seasonal vegetables you like and play around with the recipe. I love adding potatoes, green beans, peas, and cooked chickpeas as well.
Prep Time:

15 minutes

Cook Time:

60 minutes

Category:

Main Courses

Cuisine:

Mediterranean
Nutrition
Serving Size:
Calories:

258

Sugar:

11.6 g

Sodium:

408.9 mg

Fat:

19.5 g

Saturated Fat:

2.8 g

Carbohydrates:

21.9 g

Fiber:

9.6 g

Protein:

4.6 g

Cholesterol:

0 mg