These vegan pumpkin chocolate chip cookies, made with vegan butter, flax seeds, and pumpkin puree are super soft and perfect for holiday baking!
The other day I was scrolling through Instagram and stumbled upon a drool-worthy hazelnut cookie image by Bon Appétit. To be precise, the recipe on their website originally belongs to Ochre Bakery in Detroit and they graciously shared it with us amateur home bakers. I wanted to veganize the recipe and make it appropriate for the season by adding... pumpkin, of course.
The end result was deemed by my husband as "maybe the best cookie he's ever had", and that certainly made two of us.
What You Need to Make Soft Vegan Cookies
You will need the following dry ingredients:
all-purpose flour,
baking powder & soda,
salt,
pumpkin spice.
...these wet ingredients:
white sugar,
brown sugar,
vegan honey (or syrup),
vegan butter,
flax eggs (ground flax seeds + warm water)
pumpkin puree,
vanilla extract.
And finally, as many chocolate chips (or bars) as your heart desires.
How to Make Soft Vegan Pumpkin Chocolate Chip Cookies
Watch how to make them here:
Start by removing the vegan butter from the fridge to bring it to room temperature. Mix the dry ingredients together in a large bowl. In a separate bowl, cream the butter with the sugars with an electric hand-mixer, or ideally, a stand-mixer. You could technically do this by hand, but I would strongly advise against it unless you're looking for a serious wrist workout and aren't worried about getting arthritis in the near future.
After adding all the other wet ingredients together and mixing for a few more minutes, combine the two mixtures & chocolate chips... and ta-da! You have delicious pumpkin chocolate chip cookie dough.
Provided that you have plenty more willpower than I do and can stop yourself from consuming half the cookie dough at this stage, proceed to making 1 ½ inch balls and chilling them in the fridge for a few hours so that the butter doesn't immediately melt away while baking. Bake at 350°F for 13-15 minutes. These cookies are best when eaten fresh, so just freeze any extra cookie dough balls for later and bake them from frozen, for a bit longer than 15 minutes.
Tips for Making the Perfect Vegan Pumpkin Chocolate Chip Cookies
What type of chocolate is best for baking cookies?
Firstly, I prefer using chocolate baking bars instead of chips for this recipe. The large pieces from the bar create little waterfalls of chocolate in your mouth and as weird as that sounds, it is a fantastic feeling.
The type of chocolate I like the best for baking cookies is a semi-sweet variety, my favorite is Guittard's 64% bar. If you're making the recipe without sugar, you can also sub Lily's baking bars or chocolate chips made with stevia or monk fruit instead.
Avoiding caffeine? Use carob chips or bars instead.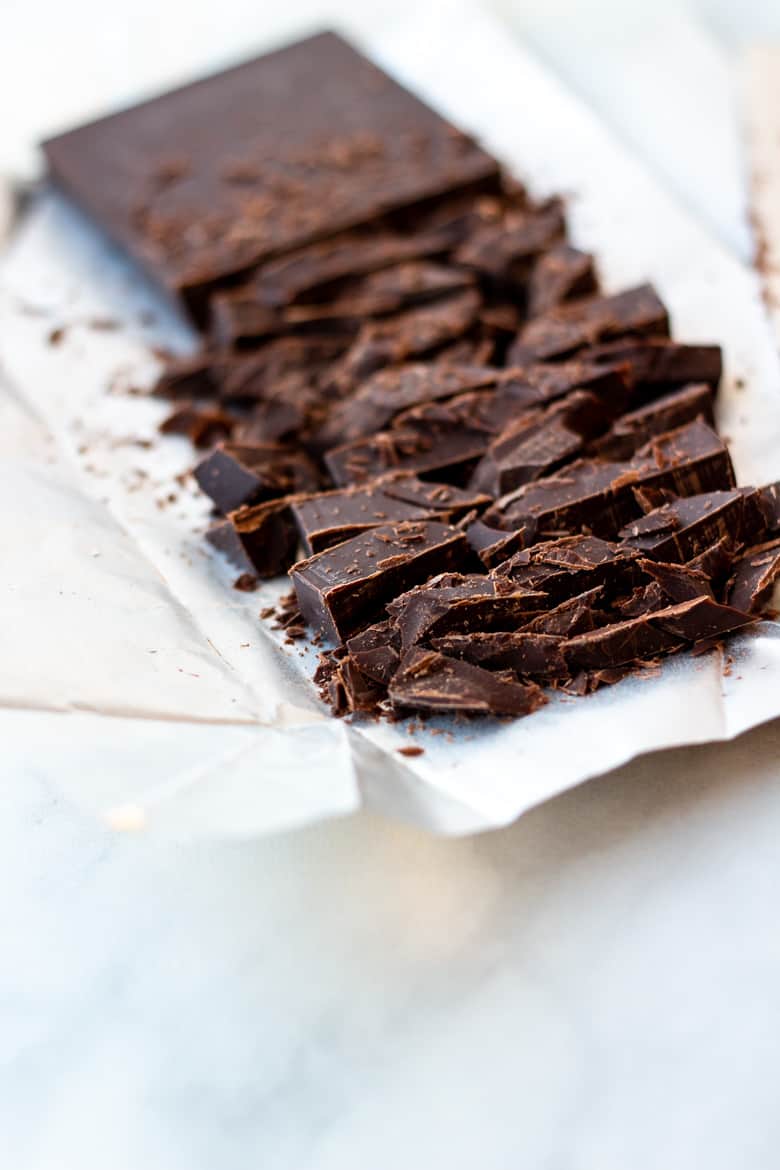 How Do You Fix Split Cookie Dough?
Make sure that all your wet ingredients are at around room temperature before you mix them together to avoid a split dough. In case you forgot to do this and your cookie dough did split at some point, don't worry. I've experienced this while testing the recipe and the end result was pretty much identical.
In fact, while researching exactly why my dough had split and how to ensure it doesn't happen again, I came across an article by John Whaite of the Great British Bake Off, advising me to completely ignore the split batter situation and move on. At the same time, another thorough article by Only Crumbs Remain, who deliberately tested batters in different conditions (albeit for cake)—came to the conclusion that a split batter does affect the end result. However, both articles did advise against adding extra flour to "cover up" the curdled batter.
The moral of the story is… if you have the time to bring everything to room temperature, 21℃ / 70℉ to be exact, go for it. If not, simply ignore these words and move on.
Optimizing Nutrition for Vegan Pumpkin Chocolate Chip Cookies
Honestly, I wasn't going to include an optimization section for this specific recipe because it is for a COOKIE. Cookies are supposed to be decadent and rich and buttery and delicious.
I regret to say that none of the "no-oil", "sugar-free", protein powder loaded, or WFPB cookies I've ever tasted made me say "mmmmmm this is an amazing COOKIE", ever. So my suggestion is that you proceed to make these as described and consume in moderation if you must. But just in case you insist on making them healthier…
Instead of all the processed sugars listed (white, brown, maple syrup, etc.)— use 1 ½ cup erythritol & 2 tablespoons of date syrup or molasses.
Skip the butter, and add an additional ¼ cup of pureed pumpkin and 1 tablespoon of tahini or almond butter (any neutral-tasting nut or seed butter should work).
For the chocolate chips or bars, go with no-sugar monk fruit varieties. If avoiding caffeine, pick up carob-based chips. Bear in mind that these are all quite specialty items, so grocery stores like Whole Foods / Sprouts / Erewhon would be your best bet if not shopping online.
Why You'll Love These Cookies
Well... because they are cookies. Just kidding, it doesn't take much to be convinced that not all cookies are created equal. I can assure you that you will want to make another batch of these cookies as soon as the opportunity presents itself —even when it isn't October— because they are:
SOFT
rich
chocolaty
pumpkiny
easy-to-make
perfectly sweet
& so delicious.
If You Want a Dessert but Don't Quite Feel Like Having Cookies...
...then who are you? Again, just kidding. Feel free to try some of my lighter dessert recipes like:
Unlike these pumpkin chocolate chip cookies, both of the above recipes are very traditional Turkish desserts.
Don't forget to let me know in the comments if you make this recipe.
You can also save it for later on Pinterest, and keep in touch with me on Instagram, or by sending an email!
Afiyet olsun!
Print
📖 Recipe
Vegan Pumpkin Chocolate Chip Cookies - Soft & Easy
---
Author:

Gonul

Total Time:

2 hours 38 minutes

Yield:

40

1-inch diameter cookies

1

x
Description
These vegan pumpkin chocolate chip cookies, made with vegan butter, flax seeds, and pumpkin puree are super soft and perfect for holiday baking!
---
Dry ingredients:
3.5 cup

all-purpose flour*

1 teaspoon

baking powder

½ teaspoon

baking soda

½ teaspoon

pumpkin spice mix*

1 teaspoon

salt
Wet ingredients:
1 cup

unsalted vegan butter (if using salted, omit salt in recipe)

1 cup

regular white granulated sugar

½ cup

light brown sugar**

¼ cup

vegan honey, maple syrup, or agave syrup

2

flax eggs (1 flax egg =

1 tablespoon

ground flax seeds +

1 tablespoon

warm water)

1 cup

pumpkin puree

½ teaspoon

vanilla extract
Extras:
8 oz

chocolate bar (

4

regular baking bars, or sub same amount of chocolate chips)
Pinch of coarse sea salt
---
Instructions
Bring all wet ingredients to room temperature.
Whisk flour, salt, baking soda, baking powder, and pumpkin spice mix in a large bowl.
In a seperate bowl, beat butter, white sugar, and brown sugar until fluffy and light. Depending on what type of mixer you are using, this can take anywhere from 5 to 15 minutes.
Add the flax eggs, pumpkin puree, vanilla extract, and vegan "honey" (or a different vegan nectar), then mix to combine.
Add the dry ingredients and the chocolate, then mix until everything just to combine— be careful not to overmix.
Make cookie balls into desired shapes. I made 1 inch-diameter balls. Arrange them on sheets lined with parchment paper, leaving at least 1 inch in between.
Chill in the refridgerator for at least 2 hours.
Sprinkle with sea salt, and bake at 350F until the edges get some color— for about 12-15 minutes.
Let them cool before serving. You can keep the unbaked cookie dough balls in the freezer for up to two months. Bake from frozen for a bit longer than 15 minutes.
Notes
*Easily make your own pumpkin spice mix by combining 3 parts cinnamon, 2 parts nutmeg, 2 parts ginger,1 part allspice, and 1 part cloves. All ground.
**If you are out of brown sugar but have some molasses in the pantry, add ⅓ cup of white sugar + 1 tablespoon of molasses instead. You can skip this part completely, but you would be missing out on the extra chewiness brought upon by the reaction between acidic molasses and baking soda.
If your batter splits / curdles, don't worry about it. This can happen due to the differences in temperature of your ingredients— especially following the creaming phase of butter & sugar. Serious Eats recommends having all baking ingredients at 70F before mixing them together. Personally, I am okay with not being as precise with this process and usually just bring everything to room temperature before mixing. I also do not think that a split cookie batter is a deal breaker when it comes to the end result.
You can substitute the all-purpose flour with 2 cups of pastry & 1.5 cups of high-gluten flour for a more cake-like consistency.
Prep Time:

2 hours, 25 minutes (includes 2 hours for chilling)

Cook Time:

13 minutes

Category:

Dessert

Method:

Bake

Cuisine:

American
Nutrition
Serving Size:

1 Cookie

Calories:

173

Sugar:

10.9 g

Sodium:

161.7 mg

Fat:

8.5 g

Carbohydrates:

22.2 g

Fiber:

0.5 g

Protein:

2.2 g

Cholesterol:

12.3 mg
Keywords: pumpkin, cookies, chocolate chip, fall, holiday, dessert